Hamblen County Schools will be CLOSED through April 24, 2020. Students will return to school on April 27, 2020.
Bus Route Feeding Program Changes
The district will not be able to continue running the normal bus routes with breakfast and lunch due to the Governor's Safer-at-Home Declaration, but will do specific bus stops. Curbside pickup will be available at West High, Fairview-Marguerite, Manley Intermediate, Hillcrest and Russellville Intermediate.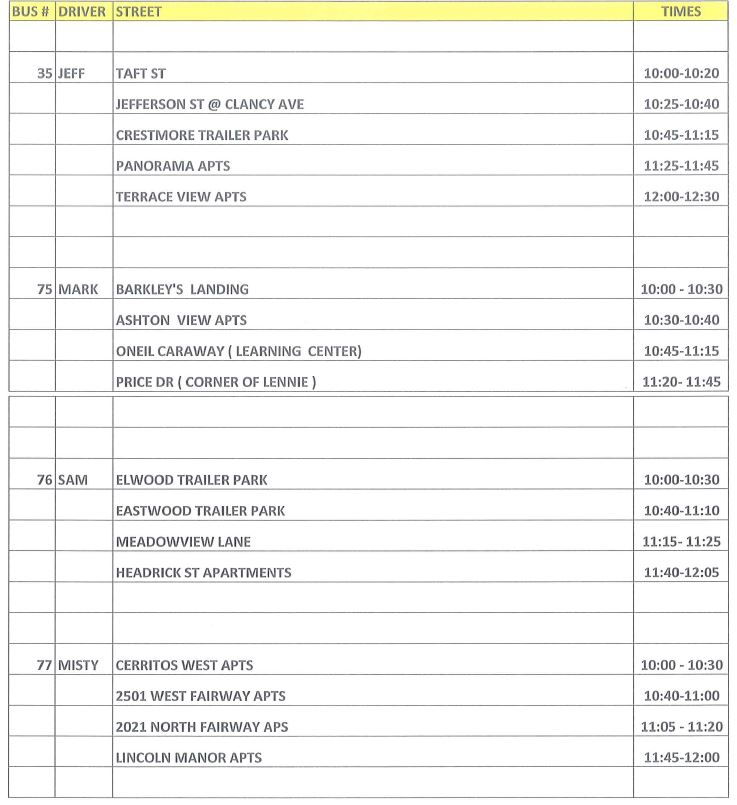 Parents and community members please continue to send in questions or concerns you may have regarding the Coronavirus COVID-19 so that those topics can be addressed in our daily presentation updates on our website.
Please email questions to SmithK@hcboe.net and place "Virus Questions" in the subject line.
Please contact us at 423-586-7700 if you do not possess the ability to view the video, and we will ensure you get the information. Thanks in advance for your support and understanding.
ESP Program Information
The Hamblen County Extended School Program will be providing childcare at no charge to parents for the remainder of this week (03/17/2020-03/20/2020) at Hillcrest Elementary School from 6:00 a.m. - 6:00 p.m. for grades Pre K-6. Students will be provided breakfast, lunch, and a snack. If your child has never attended ESP, please allow time to complete the registration form at the drop-off location. We have attached the form. ESP will be open during Spring Break at a charge of $15.00 per day for the first child and $10.00 per day for additional siblings. We will provide free daycare for any parent involved in healthcare, law enforcement or any public safety/health-related occupations. This service is free to parents in these categories which may help them serve our community.Please contact Stacy Gibson at 423-273-0668 if you need any additional information about this program. Each child will be screened prior to entering the building by conducting a temperature check. Students with a temperature will not be allowed into the program.
Hamblen County Department of Education
The mission of Hamblen County Department of Education is to educate students so they can be challenged to successfully compete in their chosen fields.
The application to Voluntary Pre-K event scheduled for April 6, 2020 is cancelled. We will continue accepting Voluntary and Tuition applications in the following ways:
Voluntary Pre-K: You may access the application (in English or Spanish) at hcboe.net. Complete the application, the Income Eligibility form, and attach all required documents.
Please indicate the school for which you are applying by writing the name of the school on the top of your application (Hillcrest, Lincoln, Manley, Russellville, West Elementary, or Witt.)
Tuition Pre-K: You may access the application at hcboe.net. Complete the application and attach all required documents.
Submit your application by April 17th:
Submit your application in one of the following ways:
1. Email to daltonj@hcboe.net (Spanish applications may be emailed to ortegaf@hcboe.net).
2. Fax to 423-586-7700
3. Mail to : Dr. Janet Dalton, Hamblen County Department of Education, 210 E. Morris Blvd., Morristown, Tn. 37814.
Acceptance notifications will be made after May 1st.
The drawing for Tuition Pre-K spots and notification of Voluntary Pre-K spots will be determined when schools are re-opened.
Questions?
Call 423-586-7700. (For assistance in Spanish, call 423-273-0689.)
District News
---